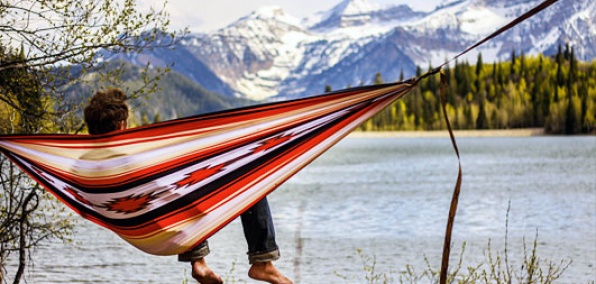 You're going camping, but you find tents to be too confining.

You'd like to nap while your brisket smokes, but you prefer to keep within sniffing distance of the grill.

You think your bedroom could use a "top bunk."

All perfectly good reasons to check out Litho Hammocks, a new suspended-bed supplier out of Utah, now online after a successful Kickstarter campaign.

These hammocks are like other hammocks in that they're made from triple-stitched parachute nylon and they stuff into a small sack when you're not using them.

But they're unlike other hammocks in some other ways. For instance:

—They're double-wide. As in, 10.5 by 6.5 feet. As in, big enough for two people.

—They assemble really easily. No carabiners and chains. Just two 11-foot straps and a quick-adjusting buckle to tighten them up.

—They come in patterns. Apart from five solid colors, you can pick these up in an American-flag motif, a Hawaiian-shirt pattern, a hippie-ish Southwestern design... even a pepperoni-pizza design.

Okay, maybe forget about the pepperoni-pizza design.