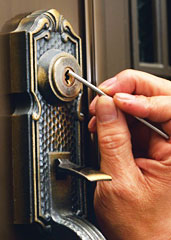 So, being locked out sure sucks.
Let's just end that problem, eh?
With
LockedOut
, a locksmith-summoning app that almost makes you want to get locked out of your apartment, now available for iPhone.
Previous lockouts:
You: "Oh no, I'm locked out. Let me look up random locksmiths and pick the first guy I find."
Two hours later...
Locksmith: "Hmm, well, what you've got here is a locked door. Tough one, too. I'm gonna have to drill and replace that lock."
You: "Damn, how much will that be?"
Locksmith: "We'll have to see when I finish."
Thirty minutes later...
Locksmith: "That'll be $6 million."
Next lockout:
You pull up this app and choose apartment or car. The app locates you and you tell them what kind of key you've got (or don't have, as it were) and take a photo of the lock. If it's a car, give them the year, make, model.
Then they come and open the door that needs opened. It's $75 for an apartment, $100 for a car and $50 if they drill.
That is just...
such
an improvement over before.