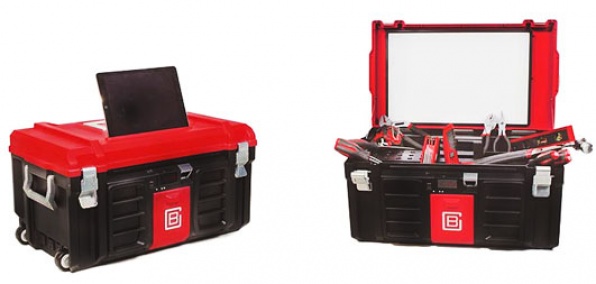 Remember Dad's toolbox?

The one that was also a wireless speaker and opened beers?

Of course you don't.

Because that was a time before Coolbox, a great big rectangle that excels at toolbox things (carrying tools), but also at non-toolbox things (charging your phone). It's available for preorder now and ships next month.

This. This is something that could only exist in the wildest fantasies of one Tim "The Tool Man" Taylor. But somehow, it tumbled into our real world. Don't question a good thing. Just think of everything it has that it probably shouldn't have. Like...

—USB ports for charging your phone.

—LED floodlights to help you retrieve that lost screwdriver/can of beer.

—A 5,000 mAh internal battery. Which sounds like a very intense battery.

—A whiteboard suited for detailed construction diagrams and spontaneous self-portraits.

—Wireless Bluetooth speakers. Anything from Men at Work is highly encouraged.

—A bottle opener, clearly.

—1,797 cubic inches of total tool storage space.

Give or take a cubic inch.