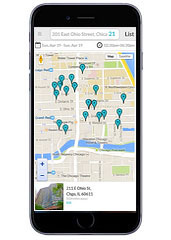 Finding a parking space in Wrigleyville on game day is best described as:
A) Quick.
B) Easy.
C) A money-making opportunity.
D) All of the above.
If you answered "D," sounds like you've just downloaded
ParqEx
, a Chicago-based app that lets you buy and sell parking spaces like... something that gets bought and sold a lot, now available for iPhone and Android.
We know. Everything but your toothbrush is available to be part of the sharing economy these days. Still, that doesn't mean this isn't pretty damn useful.
It lets you rent unused parking spaces by the hour, week, month, etc. And in regards to your Pitchfork festing this weekend, it could prove particularly useful if...
You live near the fest.
Take a picture of your spot, name your price, upload and congratulations. You've entered the glamorous, high-stakes world of parking space management. Sit back and let the money start rolling in.
You're driving to the fest.
Before you go, you'll input some basic information. Then, as you approach your destination, you'll look for a particular space that some good soul will allow you to use for a small fee.
We'll just sort of assume you're not driving Wilco's tour bus.