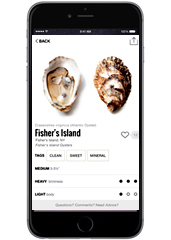 Oysting \ˈȯis-tiŋ\
: a word we just made up to denote one of your favorite summertime activities.
Now that you've been educated, this pertains to your summer oysting.
Meet
Pearl
, an app that'll give you just about every daily oyster menu in town. It's available now for iPhone.
Oysters: they're fresh, they taste of the briny winds of the sea, and they always come with ice, wee little spoons, lemon and horseradish. This here app gives you the daily changing options available at a lot of the best places in town (with more on the way).
It's real simple—open the app and you'll get an alphabetical list of oyster spots. Pick one and it'll show you which are on ice for the day.
If you're a more serious bivalve aficionado, you can do a straight search by oyster type. You want Prince Edward Island? Boom, the app. Looking for some Blue Points? How about that app, eh? You'll also get notes on the size, brininess, body and cup depth of each.
Gotta watch that brininess level.