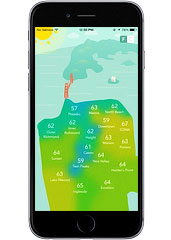 "Well, sh*t."
—
Guy who forgot an umbrella in the Sunset
"Well, sh*t."
—
Guy carrying three sweatshirts in the Mission
"Well, sh*t."
—
Guy who almost invented a hyper-local weather app taking into account all of San Francisco's microclimates, but then forgot
Introducing
Mr. Chilly
, a sleek new app for checking the up-to-the-hour weather in any SF neighborhood, available now for iPhone.
All right, so you're about to do stuff, and you've got questions. Is it chilly in the Sunset? (Yeah, probably.) Is it bike weather in SoMa? (Maybe.) Should I pack my new sunbrella? (We'll assume that's a joke.)
Whip out this app, and behold the animated map charting the temperatures in 18 different neighborhoods. Swipe the bar up top to check out what'll happen throughout the day—it's a heat map, going from deep blue to the warmest of reds. Correct, that's like every other heat map.
Might come in handy...
—When you're en route to outdoor drinks in Fort Mason and want to know if you should be en route to outdoor drinks in Fort Mason.
—If you only jog when it's precisely 67 degrees.
—If you have lunch plans in the Marina and afternoon beer plans in the Castro.
—If you are a person who goes outside in San Francisco.