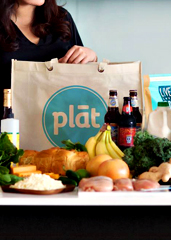 In this age of instant gratification, sometimes it's good to slow down and do things the old-fashioned way.
Then again, sometimes it's better to buy wine and snacks right through your phone.
And have someone bring them to you.
Quickly.
Stay seated for
Plāt
, a local grocery delivery service that'll bring you whatever your heart desires (grocery-wise) in one hour or less. It just launched for iPhone and is coming soon to Android.
Let's see, how might this thing come in handy...
Say you're having a party.
In that case, you'll need some good pinot noir, champagne and a few six-packs. Delivered straight to your door. Easy.
You're baking a cake,
and you forgot to buy eggs. Also: milk, sugar and baking powder. You really messed up there, but it's okay, because these guys have you covered.
You're hungry.
And you need a week's worth of groceries, or just a few items to make lunch. Browse through the app and choose from a range of produce, meats, dairy, snacks and more. Soon, you'll be less hungry.
There's a $35 minimum, but no delivery fee. So that's nice. And everything will show up at your door in about an hour.
So make sure you're home.