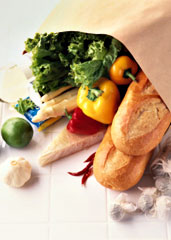 "Barbecuing by the pool this Sunday? Nah. There's this great line at Whole Foods I'd rather be standing in." —No one
Eradicating one supermarket trip at a time:
Instacart
, a new-to-Miami app that'll do your grocery shopping and deliver it within an hour, now available for iPhone and Android.
And the floor is now open for questions:
Okay, so how does this thing work?
First, download this app and enter your zip code. You'll see just about everything your neighborhood store carries. Add the items that you'd like to your cart and check out.
But do I have to offer my soul to the produce gods for this service?
Um, no. Just pay for your groceries and a $3.99 delivery fee ($5.99 if you want delivery within an hour).
Listen, I need to pick up dog food, too. What now?
Easy there. We'll make it through this together. They're working with a bunch of spots so you can mix and match items in one go. A bag of dog food from Petco and chicken roti from Whole Foods. It'll all be delivered at once.
How did you know about my chicken-roti thing?

Don't ask questions you don't want answers to.