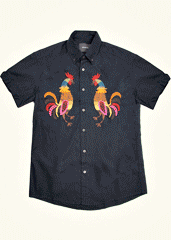 So much to discuss today.
Tell you what. Let's just start with the rooster-embroidered shirt and take it from there...
They have a rooster-embroidered shirt at
Goose
Barnacle
, a new site from a Brooklyn-based store that wants nothing more than to see you looking properly leisured this summer, online now.
Let's see, they've got aloha shirts, denim everything, that rooster-embroidered button-down, Bavarian-print pillows. Essential things like that.
So say you've got a day-date thing. Or you're just trying to hang out on a patio in a shirt that's light, printed with small sunbrellas and definitely from Paris. You're all set. Maybe learn to have less wildly specific desires, though.
Maybe it's sunny and you're wearing a navy cap with a "B" on it. Maybe it's not and you've gone inside for a cheese biscuit.
Either way, you should probably be heading to a BBQ by this point. Grab an oversize light-acid-blue denim jacket that has "BBQ" written all over it.
Minus having "BBQ" written all over it.