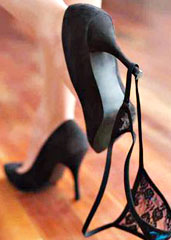 You might want to pour yourself a drink for this one.
So do that. Have a sip. Maybe a gulp.
Because today we're introducing you to a private club that's come into town by way of the UK. It's called
Skirt Club
. Their objective: to bring together women for a few libations, some sensual artistry and... "consensual experimentation." And it's launching with a meet-and-greet cocktail party on May 12 at Cavalli Miami Restaurant & Lounge.
Without further ado, these are the rules of Skirt Club.
Rule #1:
Men are not allowed.
Rule #2:
No, really, men are not allowed. If you're reading this and you're a man, guess what? Yep. You're not allowed.
Rule #3:
If you're a man, here's what you won't be allowed to see: sexy entertainment.
Rule #4:
By sexy entertainment, we mean burlesque. Contortionists. Pole dancers. Et cetera.
Rule #5:
You also will not be enjoying the limitless amounts of bubbly and vodka.
Rule #6:
Or the icebreakers. Like spin the bottle and "body tequila."
Rule #7:
Likewise with the recreational rooms. Where clothing is optional. Very optional.
Rule #8:
So you probably shouldn't bother to submit your application for membership
here
.
But hey... no one would blame you for trying.
Note:
<a href="http://www.skirtclub.co.uk/" target="_blank">Skirt Club</a>, launch party May 12, 9pm, <a href= "http://miami.cavalliclub.com" target="_blank">Cavalli Miami Restaurant & Lounge</a>, 150 Ocean Dr, Miami Beach, 305-695-4191; <a href="http://skirtclub.co.uk/register/" target="_blank">register here</a>