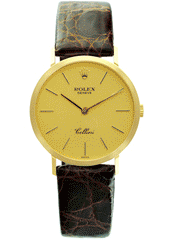 There are some things you should just buy new.
And in person.
And in a small neighborhood shop.
Take soft cheeses, for example.
...
Watches are different, though. This is about watches.
Your wrist now yearns for
The Keystone
, a very simple website with a very absurd amount of rare, handpicked vintage watches, online now.
The team behind this operation doesn't mind some galaxy traveling in the hunt for unique vintage timepieces—and one of the partners has long been involved with his family's Beverly Hills jewelry shop, so that helps.
You know where this is going: Rolex. Cartier. Patek Philippe. Heuer.
So get in there and poke around a little. Click some things. It's your new happy place where you're pretty much free to...
—Contemplate the serene beauty of the Genevan night sky on a Patek Philippe Celestial.
—Or look at that rare '50s tricolor Rolex and think about all the various shades of gold it contains.
—Or track the phases of the moon on a yellow-gold Patek Philippe Moonphase.
—Or slap a '70s Rolex Submariner on your wrist and have a thought for its original owner back in Argentina.
"Sorry" sounds about right.