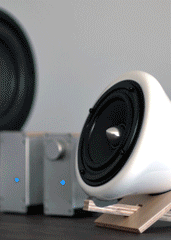 Never again.
Never again will you feel the void of not being able to obtain your bomber jackets, pocket pianos and weird hand soap from the same place.
Those unnecessarily dramatic words were brought to you by the
Ajax Shoppe
—purveyor of good-looking things that belong on your wrist, on your desk or in your closet. It's online now for all your superbly random needs.
The site's split into three sections: Sounds, Gear and Garments. Let's explore, shall we...
The Sounds
This is the region where you'll find a ceramic sound system with an amp and a sub for placing music in your ears. There's also a "pocket piano" synthesizer for when you want to play the piano, but then you want to put it in your pants.
The Gear
There's a strong focus on your wrist and your face here. Leather watch straps. A timepiece based on old racing chronographs. Blackbird beard oil. Licorice hand soap. Other stuff that only you have to know is in your bathroom.
The Garments
The olive Apolis military jacket and the Schott A-1 lamb suede bomber from the '30s are both nice.
You don't have to call them "garments."