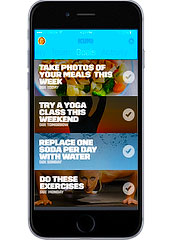 Look, just because it's pool season now doesn't mean you have to look attractive.
It's only pool season.
We're sure you look fine.
...
Or maybe here's
Kumu
, a wellness coach in convenient app form that's here to help you reach your true fitness/bronzing potential, now available for iPhone.
We see you. Squinting at the screen as if to say "There's tons of these already." And yes. Yes there are. But don't worry about it. This one's better.
Fire up the before-and-afters...
Before:
You only talked to your trainer at the gym.
After:
Kumu's trainer is your friend. With benefits. Anytime you require guidance (new exercises, healthy lunch alternatives...), you'll shoot a real person a text, and they'll respond right away.
Before:
Your workouts lacked direction.
After:
You'll set incremental goals. And if you don't achieve them, someone will yell at you. Except they'll actually be really nice to you.
Before:
Your Fitbit was stupid.
After:
Kumu will cull data from your other apps and devices to track your physical activity in a totally un-creepy way.
Before:
You were just a small-time boxer from a working-class neighborhood in Philly.
After:
You're heavyweight champion of the world.
Rocky
reference.