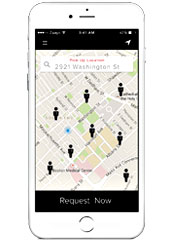 If it were Opposite Day, we'd say something like "Parking in this town is super-easy and convenient."
Then we might say, "Using your phone to order a valet would be the worst."
But today's basically a regular day, so here you go...
Have
Zwayo
, a new app that summons a valet when you need your car parked and then again when you need it back, available now for iPhone and operating anywhere in the Theatre District, the North End, Back Bay and Downtown.
Now, you probably think we're going to make an Uber-based analogy next. But instead... no, it's totally that. It's that for valet parking. So let's all just move on.
Download it. Then make a profile and whatnot. Then make sure you have a destination in mind. You'll share that destination before you leave, and one of their fully vetted, uniformed valets will be there waiting for you. Surrender your keys, and they'll park your car in a nearby garage for safekeeping.
Hours pass. You see your movie. You consume vast amounts of charcuterie at Townsman. Whatever. When you need your car back, put in a request, and they'll drive it right back to your location.
Because they're valets.