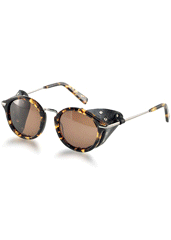 Sometimes you look at yourself in the mirror and think, "I don't look like I'm about to hitch a ride in a sidecar or traverse the Rockies on a snowmobile, and that's a problem for me."
Other times you look at yourself in the mirror and think, "I could go for a nacho right now."
...
This is about the first thing.
Think sunny thoughts for
Northern Lights Optic
, a new assemblage of Canadian-born sunglasses that were inspired by vintage alpine sports and therefore make you look interesting, now available online.
Sir Edmund Hillary. Just gonna let that name dangle out there for a second.
And we're dangling...
Still dangling...
There. You pictured him, right? Summiting Everest in those old-timey goggles. Looking all adventurous. Looking exactly like how you're going to feel once you put these on your face.
Only this time, you're working with detachable leather sides and spring hinges and circular acetate rims. And you'll probably be skiing in Chile this summer instead of climbing mountains in them. Or drinking mimosas on a patio with a particularly tolerant stance on progressive eyewear.
They've also got a few more standard options like the wayfarer-ish NL5 Solar and the aviator-leaning NL4 Gun Metal.
Think of it as their kids' menu.