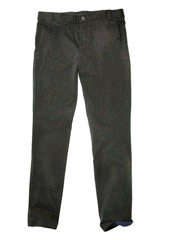 It's almost too simple.
Good-looking golf clothes should probably look...
Absolutely nothing like golf clothes.
Find the sweet spot with
Sparrowe
, an acceptable-looking new line of golf attire that doesn't revolve around plaid pants or floppy tams, now available online.
This comes from Danny Masterson and a partner with Craft Atlantic's creative director. It's a post–
'70s Show
, post-Confederacy conspiracy to make you clothes that fit in and feel comfortable while hitting small balls into slightly larger holes with club-shaped metal objects—but won't be deemed comic relief when you wear them straight from the 18th hole into Lucques.
Right now, you'll just find some nice polos. Subtly striped and solid-colored pima cotton jersey ones with side panels to accommodate your swing and a longer cut to keep them tucked into your pants. You can get them online now if you're in a rush to garb yourself.
But soon they'll make new parts of the collection available. Like soft cotton pants and shorts that have a little bit of stretch, and muted cardigans and pullover sweaters that have secret back pockets for storing extra balls.
Yup, next-level golf cardigan.