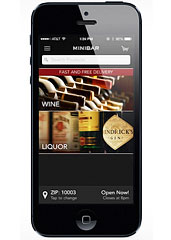 You've noticed some shortcomings in your domestic support staff of late.
For starters, none of them know how to make a good Manhattan.
Also: you have no domestic support staff.
Well, here comes some help now:
Minibar
, an alcohol-delivery app that's also happy to send you over a bartender, now live in DC.
First off: this has nothing to do with José Andrés's restaurant. And admittedly, there are lots of apps that can deliver you a six-pack and a bottle of gin.
But go ahead, open this one up. Look at the menu. Right below the expected categories like liquor and wine, you'll see "book a bartender." Give them 24 hours' notice and that's exactly what you'll get.
Meaning: that March Madness viewing party you plan to throw on Thursday now has a bartender. And his name is Claude. Or some other name.
And speaking of which, you may need to know how many libations are required for such an event. That's where their
party planner
comes in. Tell them how many guests you're expecting at what time of day and for how long, and it'll spit out how much you should order.
Yes, they'll probably underestimate you.