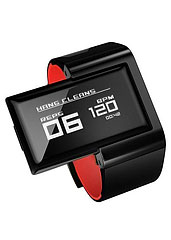 Hi.
You look like you could use some advice.
No?
Cool. This watch is going to give it to you anyway.
Here's
Atlas Wristband
, a new waterproof device that's constantly learning, adapting to your movements and telling you how to do things better (lot of nerve, this thing), now available for preorder and shipping this summer.
Apparently there's a few training watches already out there. Fine, tons. Classic sarcasm. But some may say that this one's way better. And some would be correct.
Sure, it does normal stuff like counting your calories and monitoring your heart rate. But it also does not-normal stuff like tracking your actual individual reps and telling you how to do better next time. Which you'll appreciate when you look like a young Jonathan Rambo. Never mind.
Just set goals, and this thing does the rest. Doesn't matter if you're a runner, a rower or a professional high-fiver, you'll receive a vibration on your wrist when you've hit your target for the day.
And should you find yourself in a pool: first, congratulations. Second, each stroke is counted, and afterward you'll learn which muscles you've been maximizing and which ones you've been neglecting.
Why, was there some other watch news this week?