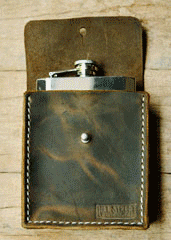 If scented emails were a thing, this one would be "new leather."
...
Hi again. Here's
Hill Street Leatherworks
, a new range of handmade objects that hold liquor bottles and passports and anything else your heart desires, now available online.
Here's a timeline of how your life will be affected in the coming warmer days:
March 17
The smell of corned beef fills the air. Bagpipes play quietly in the distance. You reach in your pocket and retrieve a remarkably flask-shaped piece of leather. To your great non-surprise, there's a flask inside.
March 21
First weekend of spring. You're taking the train to Portland. The enticing stranger sitting beside you asks to touch your two-tone, contrast-stitched Bristol weekender bag. You've been getting this question a lot lately.
April 10
A Slovenian customs official examines your passport holder. He sheds a single tear for this object of beauty outside his grasp. You have a great time in Slovenia.
May 29
You're entrusted with transporting a bottle of Pappy Van Winkle to a lake house. You imagine wrapping it in old shirts, then laugh and sheathe it inside their bottle-shaped leather Booze Bag.
June's probably great, too.