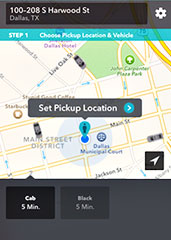 Morgan Freeman in
Driving Miss Daisy
.
Jim Carrey in
Dumb and Dumber
.
Robert De Niro in
Taxi Driver
.
These are examples of famous chauffeurs.
It's unlikely any of them will pick you up today, but still...
Here's
2pointb
, a new on-demand car app wherein you can hail both taxis and black cars from the comfort of your own phone. It's now live in Dallas and available for iPhone and Android.
Unlike UberX or Lyft, every driver here is a professional working for an established company. So that bodes well for getting where you're going. And unlike hailing a cab, you don't need to fumble with cash. Or actually hail a cab.
So download this thing. Then, whenever you need a ride, pull it up to see all the cars in your vicinity. Choose a taxi, a black car or an SUV, and follow their progress on the map. Then, when you get to your location, just... get out of the car. Because all payments are handled right through the app.
Though saying bye is just good manners.