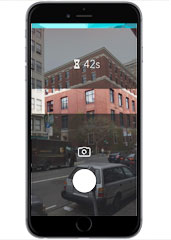 You've got 60 seconds. What do you do?
If your answer is "microwave three bagel bites," bless your heart.
If your answer is "photograph my immediate surroundings for strangers," we're getting somewhere.
Namely, to
Oneminute
, a new app that gives you exactly that much time to take a photo and share it with the world without any advance notice, now available for iPhone and Android.
So you'll download it. It will wait innocently on your screen. But once a day—without warning or any logical pattern—it'll send you a notification. You're going to push that notification.
And when you do, your camera launches. So does a 60-second timer. Your mission: snap something before it runs out, whether you're finally finishing that Everest climb or reading the backs of Kind Bar wrappers at Whole Foods. If you really hate what you took, you can shoot again, so long as the timer doesn't run out.
Finally, submit your pic. The app collects photos from everyone else who got a notification when you did, and you'll get to browse all of them.
Oh, look, the weather sucks in Warsaw, too.