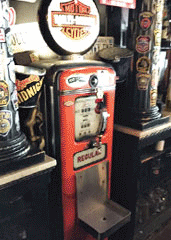 The great ones all live on after they're gone. F. Scott Fitzgerald. John Lennon. Rhino Bar.
Yeah, that last one is a new development, because when the Georgetown sports dive recently closed, they decided to fire sale everything inside. Hence, the
Rhino Bar Online Auction
, accepting bids now. Here's our five favorite items.
Rhino Head
Lot:
10446.
Current Bid:
$800.
Useful For:
Adding to your trophy room. Or starting a trophy room.
Marble Bar
Lot:
10460.
Current Bid:
None. Maybe because you have to "de-install" it yourself.
Useful For:
Adding a bar to any room that's at least 31 feet long, because that's how long this thing is.
Two-Tier Conveyor Pizza Oven
Lot:
10361.
Current Bid:
A steal at $57.50.
Useful For:
An inspired cookout come springtime. Or as a backup heat source right now.
Converted Gas Pump Beer Dispenser
Lot:
10444.
Current Bid:
$205.
Useful For:
Well, it's got a Harley logo, so it's a perfect addition to your annual
Sons of Anarchy
–themed party.
Framed, Signed Dennis Rodman Bulls Jersey
Lot:
10473.
Current Bid:
$110.
Useful For:
Securing a visa to North Korea. Don't worry, though. They've got dozens of other signed jerseys and such, from legends like Patrick Ewing, David Beckham, Bo Jackson and John Riggins.
There's a Philadelphia Eagles poster, too. It's $1.