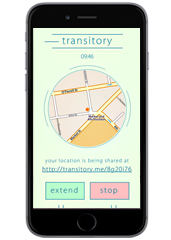 Long, long ago. In a galaxy far, far away...
Hang on. That's not right.
Once upon a time...
Nope, nope. Not it, either.
Our story begins in a peaceful hamlet just north of the sea of...
Sh*t. Okay, we'll try this one more time.
Here's a new app called
Transitory
that lets you share your exact GPS coordinates for a preset amount of time via text, email and all forms of the media they call social, and it's available now for iPhone...
Nailed it.
Moving on, this thing is useful. You call up the app, tap the "share my location" button, set a timer and select whether you want to show people your whereabouts via text, email, Facebook or Twitter. They don't have to have the app. They'll just open a URL and... hey, there you are.
The kicker: that URL is anonymous and self-destructs when your timer runs out. They're calling themselves the Snapchat of location-sharing. They're not wrong.
And, oh, the possibilities—let someone know you're on the way without having to send updates. Find your group at some giant music festival. Play a very unsuccessful game of hide-and-seek.
Because they'll know where you are, you see.