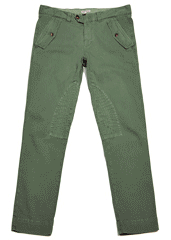 Here's an exhaustive list of people who have just launched a new webstore after many painful, agonizing, unforgivable years of not launching a new webstore:
1)
Michael Bastian
.
That ended up shorter than we thought...
But yeah, it happened. It finally happened. The man behind all that designed-in-New-York, made-in-Italy fetching-ness wants you to hop online and make yourself comfortable.
Pour yourself a cup of tea and picture how much better that scenario would look if you were wearing a pima cotton crewneck sweater with a Native American design on it.
Contemplatively brush something off your shoulder and wonder how you've lived this long without a pair of sage-green riding pants inspired by equestrian leg coverings of yore.
Imagine yourself wearing a champagne-colored jacket with black peak lapels while attending some sort of fundraiser for some sort of endangered bird.
Let your mind's eye wander to how potentially upsetting you'll look in a navy-and-orange racer bathing suit that appears to be a close descendant of the Speedo family.
The fantasy had to end sometime.