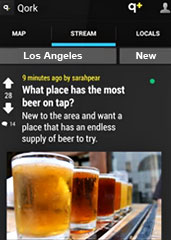 That off-menu drink you just had, the one that's only available for another hour.
That off-menu burger you just had, the one that's only available for...
Well, listen. It's Friday. You're feeling charitable.
You're using
Qork
, a new app that lets you tip off your fellow citizens about urgent things going on nearby, available now for iOS and Android.
It's a map- and forum-based app where everyone alerts each other about... whatever they deem important. Like...
You might become a secret-show crier.
First some purple amps file into the Avalon. Then that song being sound-checked sounds just like "Kiss." You know what you need to do.
Be a Good Burger Samaritan.
Maybe Cassell's is trying to keep a new limited Stan's Donuts collaboration under the radar. Or Blue Palms just tapped a most coveted keg of a certain triple IPA. You can't keep that to yourself. Wouldn't be right. But... you may not want to let your entire Facebook following know either.
You're having a way-LA moment.
Why, yes, that
is
Angelyne and her pink Corvette at Tito's Tacos—and she's sticking around for another minute or two.
Mmm, tacos.
Wait, that wasn't the moral of the story.
Oh well, yes it is. The moral can be tacos.