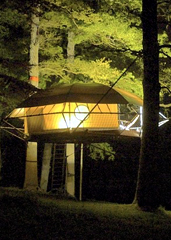 This weekend, you're going to do things.
Perhaps dainty chocolates will change hands. Perhaps some Al B. Sure will be played.
Perhaps you'll forgo all that and retire to your floating cabin in the trees instead.
You don't have a floating cabin in the trees yet, do you...
It's okay, we can fix this.
Enter
Dom'Up
, an awkwardly named cabin/treehouse situation that a Dutch arborist created specifically so you can have one, now available.
You look like you have some questions. Shoot.
Q:
A floating cabin, you say?
A:
Yeah, pretty much. It's a big platform suspended between the trees. Then it's got a canvas-tent-like covering, protective roofing and a big terrace. It's like a second home in the sky.
Q:
I eat a lot of pomegranate. Unrelated: how do I get up there?
A:
Did you just say you eat a lot of pomegr... anyway, they'll build you a ladder or a suspension bridge. Once the kit ships, any arborist (or someone from the company's network) can put it together for you.
Q:
Sounds expensive.
A:
No, not at all. Okay, yeah, kind of. But it's a floating cabin in the trees.
Q:
Good point.
A:
Those last two things you said weren't questions.