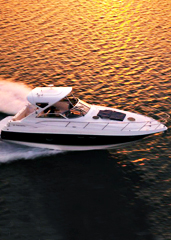 Look, we're just going to put this out there:
Owning a boat is completely overrated.
There. We said it. That felt good.
Because if we're being honest, 200 of them is really the way to go.
Don your finest captain's regalia for
GetMyBoat
, an incredibly convenient boat-sharing service that puts over 200 local watercraft at your fingertips, now operating in Miami.
Boating season. It lasts approximately 365 days around here. But with the annual sailing fete known as the Boat Show around the corner, this might be the time to discuss your watercraft options.
Namely, not ever having to buy and maintain one.
And you can think of these guys as the intermediaries between you and your new watercraft-owning pals. They prescreen owners who aren't using their vessels—if everything checks out, the boats are made available to you via their website and app. Just look up "Miami" and their local inventory will pop up. Like the actual yacht used in the Lonely Island's "I'm on a Boat" video.
You: 1. Bucket list: 0.
Now, if you're the one who owns the boat, a) nice, but b) you can list it here and earn some monetary perks.
Skippers don't pay for themselves.