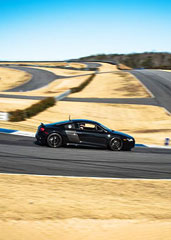 Dale Earnhardt Jr. Jeff Gordon. Cole Trickle. You.
Three of those are actual race car drivers. One's a character from
Days of Thunder
.
Drift into
Mossey Motorsports
, a new concierge service that involves teaching you how to race. In your own car. On professional racetracks. Which is pleasant. They're now taking reservations.
Before he'll let you rip around tracks like the Atlanta Motorsports Park and Road Atlanta, you'll need to book an appointment with your coach. Name's John. He's been racing professionally since he was 9. He's kind of good.
First up: track etiquette, coffee and scones. You didn't see the coffee and scones coming. Then, it's off to the track (yes, in your own car, be it an Aston Martin or a Suzuki Swift) before heading back in for some coaching as you watch your onboard video footage.
Rinse. Repeat. Eat a catered lunch. Suddenly, you're back out there with more confidence, more speed and less hunger. Laps will start being timed. Things will start getting more real. You'll probably do some high-fiving.
Then, after the weekend, John will come to wherever you are and fully detail your car. He'll also give you professional photos and a video of yourself from the track.
Congratulations: your life is an '80s power ballad now.