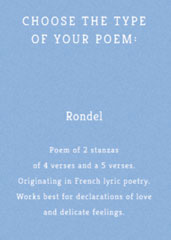 Shakespeare. Frost. Dickinson.
You might never reach their level of poetic greatness.
But, hey, your tweets are pretty good.
Maybe you can get somewhere with those.
Fancy yourself a bard with
Poetweet
, a new website that transforms your tweets (and anyone else's) into sonnets, rondels and indrisos, online now.
If you've got a Twitter handle and at least 160 tweets, you're halfway there. You'll plug in your handle and choose from three different poem types, and within seconds, it'll generate a lyrical masterpiece composed of your forgotten 140-character musings.
Which means it's 100% written by you. Which makes you a genuine poet. Some of that was true.
In order to show you how this works, we're going to need some real tweets from some fake volunteers. Ah, here we go...
@RobGronkowski
Out!! Got a great sweat on though!
Again, it's go time! Super pumped!
Bro to youngest bro. 1 through 5
Your service! We always get amped
@KimKardashian
Disney on Ice
Daily kisses or my alien face
(FROZEN VOICE)
@MarnieTheDog
Lol r u serious?
Patience...
I'm not "famous." I'm famous.
Of course the dog made the most sense.