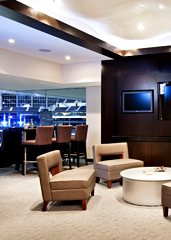 The Atlanta Hawks at Brooklyn.
The Pittsburgh Penguins at Washington.
Neil Diamond at Barclays.
You in Section 334, Row FF, Seat 8...
Wait, that's not right. We meant to say "You in your own suite. The entire thing. Just all of it."
Proceed directly to living the dream with
SuiteHop
, a new service that lets you book luxury suites at venues for one-off games and concerts instead of booking the whole season (like they made you do before this thing was born), online now.
Suites don't usually work like this. Because normally they're sold on a single- or multi-year basis. But thanks to these guys who found a way to get you access to shared and private suites at whatever shows or games you want to go to, that's no longer the case. Heroes.
First, you'll search for an event that's not the Super Bowl (because that's next week, and it's obviously sold out) or a concert like the Who. Next, a map of the venue will pop up, showing you which suites are available to rent. You'll decide whether you want the entire thing to yourself or just a couple seats.
Then, you'll book it.
And that's the story of how you always sat in suites.