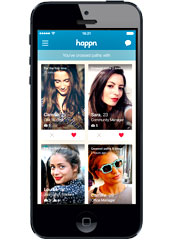 The traditional way of meeting attractive strangers:
Approach. Strike up a conversation. Ask them out.
The new way:
Sometimes you can just let your phone do it.
Because you've downloaded
Happn
, a neighborly new app that introduces you to people you've just passed by in real life, now available for iPhone and Android.
No one's saying that walking up to a random stranger and being charming is difficult for you. Not at all. But sometimes the moment isn't right. They're speed-walking three frenetic dogs. They're in the next lane on the 101. Their head is down in the café, focused deeply on some latte art.
That's where this dating app comes in. Every time you pass someone else who's also downloaded it, their profile instantly appears on your phone. You can then learn a little about them.
And choose to completely ignore this. Or...
Like their photo. And if they like yours, too, your mutual admiration will be revealed. Or...
Just say hello.