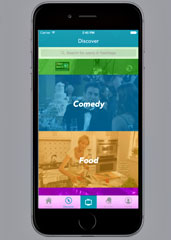 You remember live television.
It's that thing people use to make funny videos on the Internet.
We now live in a world where you might just need
Clippit
—it's a new app that lets you capture and edit clips from live TV on your smartphone before the world eventually catches up on YouTube, and it's now available for iPhone and Android.
So, yeah, when you want to see a local news reporter get a surprise greeting from a bear, or catch a client's late-show interview, YouTube exists. But with this app, you or your interns can more smoothly capture the crazy as it occurs.
Maybe your long-forgotten flirtation with extra work is coming up in a
Sex and the City
rerun. Maybe your team is set to dominate Monday night. You'll download this app and sign up. Then select a genre and find your show.
Then you'll select from a bunch of thumbnails showing your program broken up into small segments. You can trim it down to a slick clip of a winning play or a short loop of your face behind Sarah Jessica Parker's face, then post the clip to your wall.
It's almost like media has a social component now.