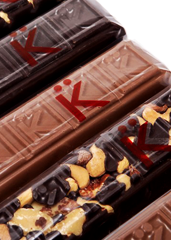 The answer is chocolate.
It doesn't matter that you didn't ask a question.
The answer's still chocolate.
Thus ends our segue into
Diane Krön Chocolatier
, the famed confection maker's first virtual outpost since getting into the delicious-things game over three decades ago, online now.
You see, back in the '70s, Diane and her husband, Tom, were on top of the chocolate world. They popularized chocolate-covered strawberries and other delights that people like Jacqueline Kennedy, Katharine Hepburn, Andy Warhol and Henry Ford grew to love them for.
Now: your turn.
So you'll go to the site and click "chocolates" because that's what you're there for. Then you'll fill your fake cart with things like...
—Liquor Balls: wherein chocolate becomes filled with vodka, scotch or tequila.
—Snowballs: hazelnut mousse sprinkled with powdered sugar.
—Truffles: you've heard of truffles.
—Bears: where crisped, chocolate-covered rice gets shaped into animals.
—Bars: where chocolate gets shaped into... bars.
—Other Stuff That Some Holiday Party Host Should Be So Lucky to Receive: ...
Mostly chocolates.