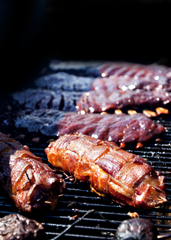 We interrupt your afternoon to bring you an important two-part barbecue-related message:
1) Summer will happen again.
2) And when it does, you'll be glad you knew about the
Truebud BBQ Elite Que School
, a two-day crash course in Tonganoxie, Kansas, wherein the secrets of barbecue mastery will be revealed, now taking reservations for March and May of 2015.
This is just like regular school. Only instead of doing math and getting grades, you'll be making pork ribs and eating pork ribs.
And your teachers... don't have PhDs or master's degrees. But they have won countless competitions and awards from the likes of the Kansas City Barbeque Society. (Perhaps you've heard the words "Kansas City" and "barbeque" mentioned together before.)
It'll go like this:
Day 1:
You'll learn all about flavor-injecting as well as how to pick your seasonings and properly trim your meat. Then for the finale: a fish fry for a job well done. Probably a ton of beer.
Day 2:
Early start, but breakfast will be waiting. Then it's on to managing heat and generally perfecting the taste, tenderness and presentation of various meats. Followed by a Q&A.
High fives probably would've been better.