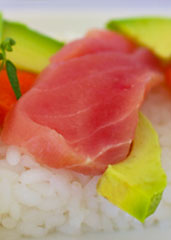 A wise man once said: "One fish, two fish, red fish, blue fish."
...
Thus concludes our segue into
Two Fish
, a new outfit that'll ship you raw, fresh-from-the-boat tuna sashimi that was sliced and prepared by the sushi chefs at San Francisco's Tataki restaurant, now accepting preorders for December delivery.
Surely you know a holiday party or a home-cooked meal or a random mouth that could benefit from some fresh yellowfin tuna. And as fate would have it, that's what this is.
It works like this: some local San Francisco fishermen sustainably catch the tuna in a small boat. Then these guys buy it direct off the boat. Then they have it cut, flash-freeze it and deliver it to you.
All you have to do is thaw it and proceed to:
—Eat it raw.
—Turn it into tartare.
—Decorate your salads.
—Hire your own sushi chef to roll it up with rice and avocado for your annual black-tie yellowfin tuna party.
—Load it into a T-shirt cannon and have a tuna fight.
We did the thing where the last two are stupid.