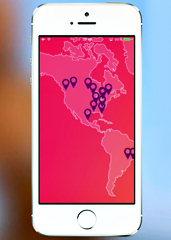 Well, this would make one hell of a "how we met" story...
And it starts with
Fling
, an app that lets you send anonymous pics and videos to up to 50 total strangers around the world who also have the app (what could go wrong...), now available for iPhone.
It's sorta like Snapchat. But instead of your shared things 1) self-destructing, and 2) falling into the hands of friends, they're 1) forever, and 2) falling into the hands of people who have no idea who you are and live in places you may never see.
Neat.
After you download the app, allow it to know your location. You'll see why that's important in a second.
Then, take a picture or a video. Of yourself. Of a beach. Of a grape. You'll figure it out.
Next, type a caption and "fling" the little paper airplane at the bottom of the screen. Your photo's in the ether now. A world map will appear and show you all the places it landed. See? Location's important.
Eventually, you'll get a photo from a stranger. And who knows. Maybe it'll be from someone attractive who wants to message you privately.
And that's how you met your... something.