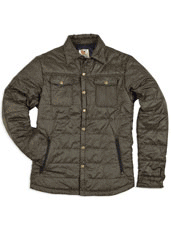 Here we are, just 47 days into fall, and we've reached sweater weather.
So let's do it right with some over-the-top wool from Montana.
Feel the sweet embrace of
Duckworth
, a new outfitter that's very serious about wool. Like, so serious they raise sheep in their backyard, knit everything in these United States and then utilize the Internet/mail to send the end result (shirts and stuff) straight to your body. Anyway, it's online now.
So if you could use any of the following...
—a lightweight three-button henley for wearing with jeans
—a slim-fitting waffle-knit hoodie for tailgate situations
—an insulated snap-up shirt that would look great near a bonfire
... then yes, this is the place to get it.
And on the site you'll see that several more wearables will become available between now and early December. Like a quarter-zip sweater and a T-shirt sporting a well-dressed bear.
You can never have too many of those.