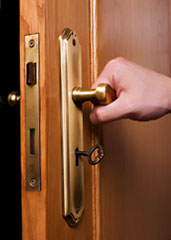 So much to look forward to in the coming weeks.
Quality time with family and friends...
...all locked inside a room together, trying desperately to get the hell out.
No, it's not the holidays, it's
Escape Room LA
—a new game involving your attempts to flee a locked room using nothing but your wits, now selling tickets for its December debut in Downtown.
First you'll buy tickets for you and some individuals you don't mind getting extremely close to. Then you'll all show up at an ancient office building behind the Orpheum and get escorted into what looks like a 1940s noir detective agency. And then... yeah. Someone will lock the door behind you.
Sixty minutes. That's how long you get to find the way out. There'll be a story to piece together. There'll be puzzles to solve. There'll be desk drawers to open, crime scene photos, suspect lists and a map of Downtown. The stakes could not be higher: either you'll all work together to figure out the key to the door...
Or someone is legally obligated to let you out.
But still.