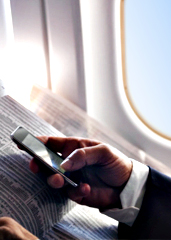 Couple ways to go about your holiday travels this year:
1) The wrong way.
2) The way that involves these five holiday travel apps that weren't around this time last year and might just make your winter escapades more like escapades and less like things that are terrible.
These should help with option not-1:
AirHelp:
You're delayed at the airport. Not fun. But then you pull up this app and enter in some details about the flight you should have been on, and other people work on your behalf to compensate you for your troubles. Fun again.
AwayFind:
This thing patrols your inbox and only shows you the emails you need to see based on who you usually respond to. The rest are stored for later. Less work and more play makes you a... something.
Quicket:
It'll help you book a flight somewhere up to three hours before departure. And no sooner. And there's that in case you need that.
FareScout
:
You: "I'm not sure when I can get the best deal on my ticket home." This app: "I use data from the previous year to tell you when the best time to book will be. You'll know because I'll either say 'Wait' or 'Buy.'" You again: "Neat."
SocialRadar
:
Facebook. Instagram. Twitter. You can link up to all of those through this app, and it'll automatically notify you when old and new friends are nearby.
Small-talk app not included.