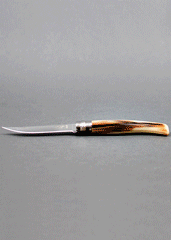 Yeah, but is your pencil encased in brass?
And was your notepad handmade in Japan?
And do you even know what we're talking about?
Probably not, because we haven't told you about
This Is Ocean
yet. It's an NYC-based purveyor of strangely attractive office supplies, rare print magazines and the occasional rain jacket for some reason, and it's online now.
Office supplies are usually pretty nondescript. These are the opposite of that. Sure, they have pencils, sharpeners and notebooks. But they're all just... special.
Right. And then they have things that aren't necessarily for the office. Things that are different.
Things like:
—A knife with a South African cow horn handle.
—A few indie magazines and books, including one of the latter called
Popcorn Orange Peel Knockdown
.
—A NATO watch strap made to resemble those issued by the British Ministry of Defense.
—Some aesthetically pleasing wrapping paper.
—A rain jacket.
It's water-resistant and everything.