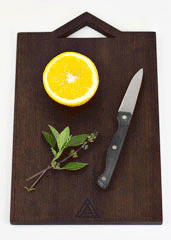 "I can't believe something so attractive is used to cut steaks on either."
And that's just one of many fun new sentences you can say thanks to
Aroh
, a striking collection of tree-based objects that won't change your life but certainly won't hurt it either, online now.
Now, let's imagine some scenarios that would require you to explain these marvels to a guest:
Where are your keys?
"Over there, hanging on a magnet under that salvaged piece of barn wood attached to my wall. Yeah, it was handmade by some guys in a woodshop in Louisville. They must have a barn surplus down there."
Do you have a bottle opener?
"Of course. It's the kind with a super-magnet on the bottom to catch bottle caps before they fall to the ground. Can't let gravity win."
Where's the light?
"Feel around for the familiar, rugged texture of shag bark hickory. That would be a hollow wooden box with an Edison bulb inside. Also, stop clapping."
Can I trim the rib eye I just brought to your house?
"Definitely. That's why I keep the more-attractive-than-it-needs-to-be walnut cutting board in the kitchen."
Thanks.
"Don't mention it, fictional guest. Don't mention it."