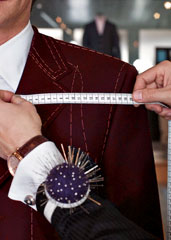 The holidays. A fire pit. A Nats victory party.
All things you'll be encountering in the next few weeks. And all great occasions to don a smoking jacket.
Yes, we're talking about smoking jackets today.
These ones:
Bespoke Smoking Jackets
, available from the Tailored Man, who happens to be taking appointments for fittings in DC next week.
Now, you probably don't
need
a smoking jacket. But neither did Hefner. Or Sherlock Holmes. The point: you'd look damn good in one.
So go see this guy, who's got offices in Toronto and Tysons Corner. Toronto's a long flight. Tysons is... Tysons.
Anyway, he'll measure you up. Then he'll walk you through your velvety options.
Among them: something knee-length. With piping. Your family crest. Pretty much anything. Full-on robe? Sure.
Of course, if you'd like something a bit more... understated, he'll also do a more structured-looking velvet or suede jacket that you can get away with on black-tie occasions.
Now you just need a bespoke pipe.