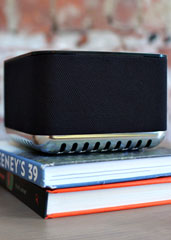 It's true.
Carrying a boombox on your shoulder
does
look cool.
But we've come a long way in the portable speaker department, so... maybe put that down.
And pick up
Core
. It's a compact wireless speaker that will fit in the palm of your hand and put your stereo to shame, and it's available for preorder now.
First, know this.
It's not your typical speaker.
No shortage of wireless speakers out there, we know. But most create flat, one-dimensional sound. Meanwhile, this thing produces the multidimensional sound you'd expect from a home theater.
It's because of science.
Inside that little box: technology with names like Wave Field Synthesis and Acoustic Holography. Which... hard to explain. But it makes your music sound better.
It does the Bluetooth thing.
Your phone, your iPad, whatever you've got. Just be within 60 feet of the speaker, and you can stream songs right to it.
It's also your new phone.
Kind of. See, when a call comes in, you can choose to have the sound feed through the speaker instead of your phone. Sure.
It's got gesture control.
Wave your hand over the device, and it'll skip to the next song in your playlist.
Great, we're waving at speakers now.