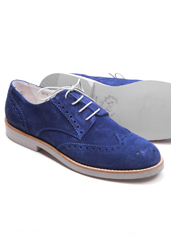 Bourbon.
Baby pancakes.
A linen button-down.
Gigi Hadid.
Three of these things you can now have delivered within the hour.
And one of them, well... she travels a lot.
Facilitating the previously impossible:
Postmates
, an app that will coordinate the delivery of just about anything around town in less than an hour, now available for iPhone and Android.
This is what we like to call a game changer. Because from now on, everything is deliverable. Wingtips from Del Toro: you got it. Cold-brew coffee from Panther: done. A Super Bowl appearance for the Dolphins: okay, almost everything.
You'll start by downloading the app. Then you'll search for any local store or restaurant and type in what you'd like delivered. From there, they'll link you up with a local Good Samaritan who's willing to retrieve your bounty by any vehicle necessary. Bike, car, motorized Radio Flyer—doesn't matter. Your goods will arrive at your doorstep in under an hour.
As for payment, the app will handle the whole thing using your credit card.
And by the way, the service is available 24/7.
So you may actually make a good decision after 2am.