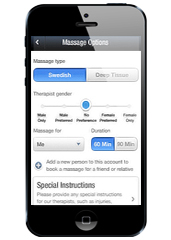 First, you'll need to pull out some clean sheets. Maybe dim the lights.
Then you're ready for
Zeel
, a beautiful new app that wants only to send a masseuse to your door ASAP—it's now in beta and officially launching in San Francisco on Friday.
Picture the last day you had a massage. Now picture the last day you didn't have a massage. See: days when you have massages are better than days you don't. Now that that's settled...
Pull up this app. It stores your credit card info and handles payment and gratuity, but you knew that. So all you have to do, really, is select a few preferences (male or female, Swedish or deep tissue, 60 or 90 minutes) and whether you want it immediately or the next day or what.
Man. That was kind of exhausting. Good thing you just booked a massage to help you relax. Bonus: you won't have to make that buzzkill drive home afterward. You're already there.
And if you're going to be a regular, they've got a pretty great subscription service. Costs $99 a month, but that fee goes toward the massage(s) you book anyway, which'll magically be 25% off.
Enya's probably a stakeholder.