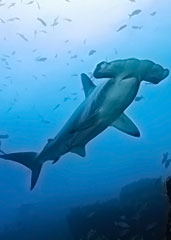 Sharks. So misunderstood.
Those cold, beady eyes... well, they're really just cute little gateways into their intrepid souls.
And that menacing jaw... just a toothy grin.
Which, incidentally, happens to look great on Instagram.
Strike a pose on your
Shark Tagging Mission
, a crazy expedition where you'll clock in a little one-on-one time with a few of Jaws' relatives, taking reservations now for August 15 to 17.
The team behind this: Nova Southeastern University's Oceanographic Center and the Guy Harvey Research Institute. Yeah, that's the dude who paints marlins for a living. His stuff was on a bunch of Trapper Keepers back in the day. That's how you know it's legit.
Their proposition to you: head to the Westin for a couple of days and help them measure and put tracking tags on sharks. Hammerhead, blacknose, bull. You'll be getting hands-on with them. And if that sounds like the makings of an excellent Instagram post, well, it is. Also: fully encouraged.
Here's how it'll go down: on Saturday, you'll head out into the Atlantic for five hours. You'll put together fishing equipment. Bait some hooks. Eat lunch on board the boat. Then it's on to wrangling a few ocean predators.
"Professional Shark Wrangler" has a nice ring to it.