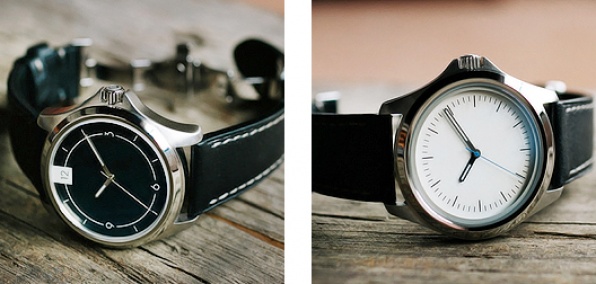 The finger bone's connected to the... hand bone.

The hand bone's connected to the... wrist bone.

The wrist bone's connected to the... arm bone.

And right about there is where you're going to place one of these.

Have the time for the Canvas Watch Company, a new operation from a Tesla Motors vet wherein he supplies you with simple, smart-looking watches designed by a constantly rotating selection of artists and designers, online now.

This all came about after Shaun Reinhold (that Tesla guy) decided that all watches should benefit from luxury automobile expertise. And that you should only have a couple options at a time. And that when they sell out (there's only 250 of each), he'll commission some new artists. Great decisions.

On the site now: two options. They've both got black leather straps with gray stitching, so it's mostly about the dial. Maybe you're drawn to the numberless white one that looks like it belongs on a daytime boating venture. Maybe you like the black one with thin hands that should definitely be placed next to a happy hour martini.

But if you're really having trouble deciding, know that the white dial was designed by a Swiss graphic designer and the black one was... n't.

Hope that helps.