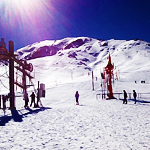 AFRICA
Oukaïmeden Ski Resort, Morocco
Highest Piste: 10,738 feet.
The Journey: Sure, you could take Africa's highest ski lift to Oukaïmeden's summit. But you could also take a donkey or a camel. And that makes for a way better story.
The Destination: A snowy oasis of a summit in an otherwise desert landscape. Elevation is weird like that.