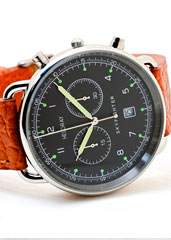 World War I: the Great War. Not actually all that great if you were there.
Although it produced a few good things. The zipper. Daylight saving time. Churchill.
And these watches.
Make some room on your wrist for
Helgray
, a new line of watches out of Montreal and inspired by the timepieces worn during the war to end all wars, taking preorders now for August delivery.
A bit of background here: it was around WWI that watches were migrating from pockets to wrists. (Apparently, it was a bit impractical to whip out a pocket watch in the trenches.)
And these watches... look a lot like the ones used back then. The face is wide but not too wide, the stainless-steel case is strapped to a leather band, and the dials are classic looking. Basically, these'll work as well with a suit in a committee room as with a polo on an H Street rooftop.
Plus, they're pretty useful. There are four designs, and each one comes with a different secondary function. Like a double chronograph on the pilot-inspired Skyfighter model, or an additional hand to indicate a second time zone on the dressier GMT model.
Aka the "5 o'clock somewhere" function.