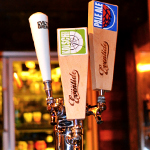 EVENTIDE BREWING
These Guys Are New. They Need Help.
They require: Someone who doesn't mind working with their hands. You'll be building tap handles, handing out nitro stout samples at festivals and generally feeling pretty good about that.
You'll receive: The satisfaction of helping to bring a fledgling brewery into the world. Funny how satisfaction has a mild hoppy bitterness.